Tropical Eyes® ValuePack®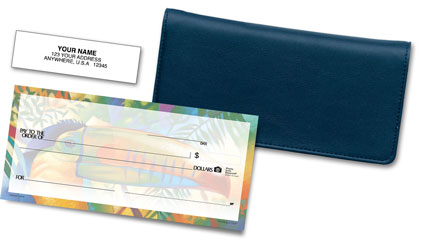 View Larger Images
Product Details
ValuePack®
4 Check Scenes
Distinctive Type Style Included
Leather Cover
150 Coordinating Self-Sticking Labels
Patented Security Features
Checks are printed on recycled paper containing 30% post-consumer fiber using only soy-based inks.

A portion of the proceeds from this check supports EcoHealth Alliance. EcoHealth Alliance is an international organization of scientists dedicated to the conservation of biodiversity. For more than 35 years, EcoHealth Alliance has focused its efforts on conservation. Today, we are known for our innovative research on the intricate relationships between wildlife, ecosystems and human health.

EcoHealth Alliance's work spans the U.S. and more than 20 countries in Central and South America, the Caribbean, Africa and Asia to research ways for people and wildlife to share bioscapes for their mutual survival. Our strength is built on our innovations in research, education and training and our accessibility to international conservation partners. For more information about how to support our programs please visit www.ecohealthalliance.org or call 888-978-4275.