Coastal Views®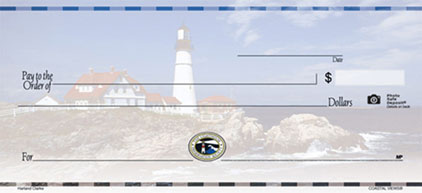 View Larger Images
Product Details
4 Check Scenes
Distinctive Type Style Included
Patented Security Features
Printed on Recycled Paper
ValuePack Available
Checks are printed on recycled paper containing 30% post-consumer fiber using only soy-based inks.
A portion of the proceeds from this series supports The Lighthouse Preservation Society, a non-profit organization that has made lighthouse preservation a national issue with Congressional hearings, conferences, and the raising of nearly $6 million for over 160 lighthouse projects. This prestigious group is also the recipient of a Presidential Achievement Award from the federal government for its efforts to preserve our lighthouse heritage.